Spring has sprung here in Melbourne and I am so glad we will have better weather soon!
It also means it's time to prepare a new recipe collection for this lovely time of year. Spring always feels like a fresh start, don't you think?
After winter I'm always a bit tired of Apples, Oranges and Pears… I'm hanging for more exciting fruit! We're getting a bit of that already in September with Pineapple and Papaya, but I also can't wait for berries, cherries, mangoes and melon which start to come through in October and November.
What's in season
It's an interesting exercise for me, looking at what's in season. Because Australia is huge, has such a diverse landscape and is very different to my native Germany. Sometimes I have to remind myself that eating locally is a whole different ball game here. There are already blueberries and strawberries from Queensland in the supermarkets now, and yes, I absolutely did have some. But I will try and mostly focus on what's in season in Victoria. Just because it is from Australia doesn't necessarily mean it's local I guess… Not when you're thinking about food miles and the distances we're talking about here! It's a learning curve and I plan to make this list more specific and relevant to where ever you are. This is merely the start. If you have any suggestions, please leave a comment! I would love to hear from you.
While I'm waiting for more exciting fruit, I keep myself happy with the vegetables. Currently we often have a mix of vegetables roasted in olive oil and a little dried oregano, tossed through some greens and served with a homemade hommus on the side. I also have a great (weird) craving for beetroot! Go figure.
Here is the overview for fruits and vegetables that are in season in spring: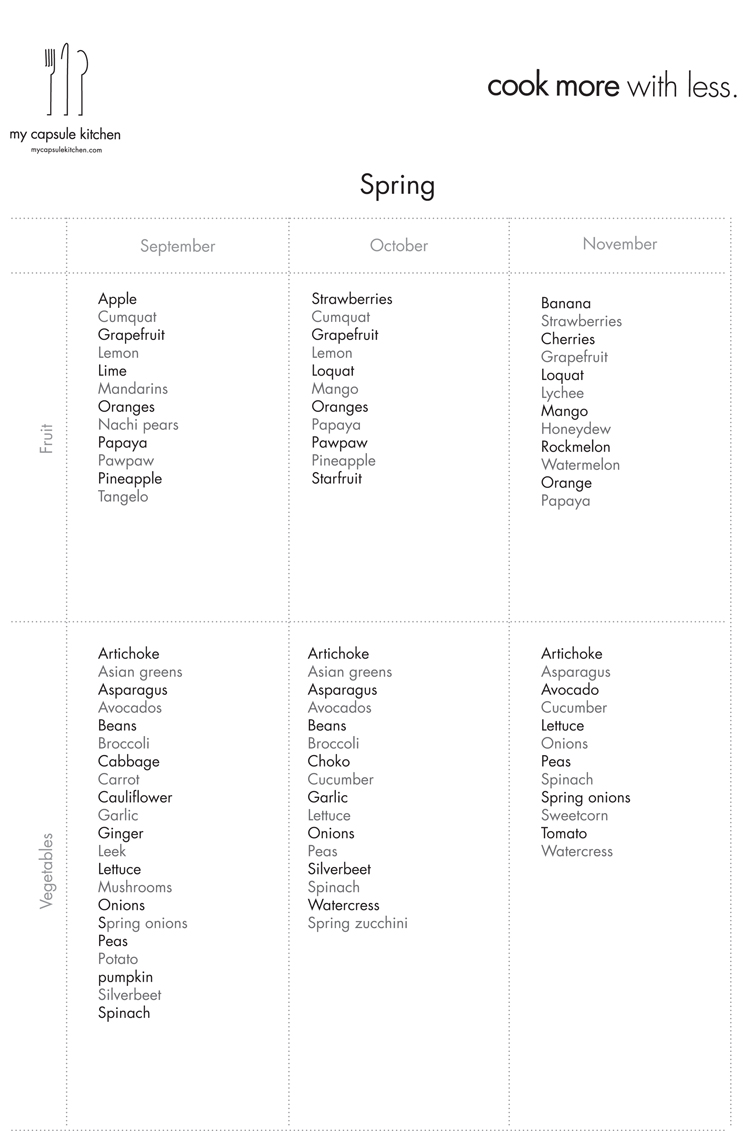 You can download your free copy here.
Setting up your spring capsule recipe collection
Working out the spring capsule recipe collection is much the same as it was for the winter capsule. If you are new to this you may want to read the guidelines, blueprint and planner first. That means you can do the same, even if you don't live in Australia, where the seasons are the odd way around (for me anyway). If you are heading into autumn, just play with your autumn recipes. This is a very personalized approach and whilst I'll share with you the recipes that I love and have in my collection, yours may be completely different. That's the fun of it! You are creating something that is uniquely yours.
For me, setting up this season's recipe collection will be a process, rather than having something ready to lean on. Life is a bit hectic, we are renovating and my little man is in daycare only once a week so my time is very limited. But that doesn't mean it can't happen. Over the course of spring I will continuously edit this page and add recipes to my collection as I go. That way when spring comes around next year I already have something to work with! You can do the same if you don't have the time to set it up completely in one go.
Progress not perfection!
These are the recipes I am looking for:
10 Breakfasts
Hazelnut and Sour Cherry Granola
Overnight oats with frozen raspberries, yoghurt and bee pollen
Vegan Banana Bread
Baked Oats
Coconut Chia Pudding
Spelt Semolina
Raw Muesli
20 Meals
Meatballs with Pesto
Moroccan Lamb with Lemon Couscous

Salmon and Soba Noodle Salad
Baked Pumpkin with Spelt Couscous
Tomato, Porchini and Eggplant Penne
Pasta with Peas and Cashew Parsley Pesto
5 savoury Snacks
Sunflower and Zucchini Hummus
Chickpea Hummus
Tahini and Parsley Dressing
Pork and Fennel Saussage Rolls
5 Smoothies
5 Healthy Treats
Cacao, Brazilnuts and Flaxseed Bites
Brown Rice Crispy Treats
Breakfast Balls
5 Sweets
Cherry Marzipan Streusel
Rosemary, Olive Oil and Chocolate Cake
In my winter capsule I also had 5 side dishes and 5 drinks. For the moment I felt  that is too much and not needed, so I've tossed it for the time being. This is after all, my first attempt at setting this up over the course of the year. I enjoy figuring out what works and what doesn't. Keeping it as simple as possible is definitely the most important thing.
What are your favourite spring recipes? Is there something you particularly love about this season? Leave a comment below, I would love to hear from you.
Much love,
Katrine x